Crown C Sherry Cervi Barrel Racing Saddle
Price Listed For Natural Color Base Model Only. Prices will vary based on Tooling and Accessory Options.
Enquire Now For More Details and Quotation To Your Requirements.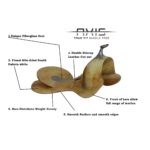 Sherry Cervi teamed up with Martin Saddlery to design the Crown C Barrel Racer. The Crown C's specific design helps barrel racers maintain proper body position and stability during a run. It employs attributes that aid barrel racers in absorbing those quick jarring movements common with today's faster, more athletic barrel horses. When championships are determined by hundredths of a second, the Crown C gives riders a competitive advantage that truly makes a difference in their performance.
SPRS™ (Stirrup Positioning Rig Slot) holds fenders in forward position and offers resistance, keeping rider deep in the seat pocket

Shortened seat jockey (distance between the swell and cantle) gives the rider increased stability without hindering her freedom to stand up and sit down when necessary

Forward angled stirrups help keep the rider's feet in front of her center of balance for better body position in the turns

Though the stirrups are angled forward, they are designed to give the rider a full range of motion to cue the horse as needed

Straight up and down saddle horn allows the rider to brace and support her body without losing balance

Horn cap is shaped to fit perfectly in the rider's palm, accommodating added support and comfort for those who prefer to grab the top of the horn

Available with Adjustable Rig only
PLEASE NOTE THAT THE LISTED PRICE IS FOR THE BASIC STOCK MODEL. CUSTOM BUILT CROWN C SADDLES ARE ALSO AVAILABLE TO ORDER WITH PRICES ACCORDING TO TOOLING, COLOUR AND ACCESSORY OPTIONS. EMAIL [email protected] for a price on your specific requirements.
SADDLE SPECS.
Natural Roughout – Half Tooled Desert Flower/Mini Basket. (ALSO AVAILABLE IN CHESTNUT CHECK STOCK AVAILABILITY AND GULLET SIZE)
Gullet Width: 6.5″ Standard, 6.75″, 7″, 7.5″ To Order
Gullet Height: 8.25″
Cantle Height: 4″
Horn Height: 3″
Horn Cap: 2″
Tree Sizes: 12.5″, 13″, 13.5″, 14″, 14.5″, 15″
Adjustable Rigging