About Martin Saddlery
Martin Saddlery are dedicated to giving you the most Fit, Function, and Value in a saddle. Martin saddles are built by professionals, for professionals.
Our saddles are designed to provide a better fit for your horse and specialized by discipline with the rider's needs in mind. Each Martin saddle is hand-crafted and individually assembled by the finest of craftsmen.
Often imitated, never matched.
The Sherry Cervi Crown C Saddle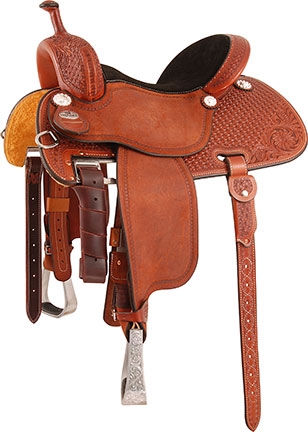 Sherry Cervi teamed up with Martin Saddlery to design the Crown C Barrel Racer.
The Crown C's specific design helps barrel racers maintain proper body position and stability during a run. It employs attributes that aid barrel racers in absorbing those quick jarring movements common with today's faster, more athletic barrel horses.
When championships are determined by hundredths of a second, the Crown C gives riders a competitive advantage that truly makes a difference in their performance.